Avaya Definity 6416D+ Digital Phone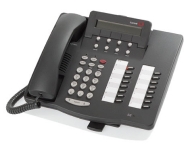 No video selected.
6416D+ Features
2 line x 24 character LCD
16 programmable call appearance/feature buttons
Navigation keys for menu, next, previous, and exit
Fixed feature buttons include conference, transfer, hold, speaker, mute, and redial
Built-in 2-way speakerphone
8 personal ring options
4 soft keys for menu functions
12 soft key default features with access to 18 alternative soft key features
Compatibility
The 6416D+ Telephone is compatible with Definity R6.1 or higher and Avaya IP Office.
It requires an available station port on a TN2181, TN2224/B/CP, IP403/406, IP400 Digital Station 16, or IP400 Digital Station 30.