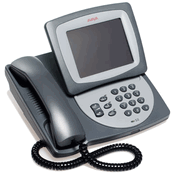 No video selected.
4630 IP Telephone Features
Large display - 1/4 VGA color, touch-screen (320x240)
6 telephony related applications - Provide ease-of-use and minimal touch access
Speed dial - 100 speed dial buttons organized into groups for easier access
Call log - List of incoming and outgoing calls
Directory - Access to corporate telephone directory information on a LDAP
Voice mail - Access to voice mail messaging capabilities of Definity Audix or Intuity Audix
Web access - Provides browsing access to web-based information, including support for downloaded Java applets
5-fixed feature buttons - Speaker, mute, headset, volume up & down
Supported audio codecs - G.711, G.723.1, G.723.1A, G.729A, & G.729B
Speakerphone, integrated headset jack, message waiting indicator
Built-in ethernet hub
H.323 V2 & NetMeeting
DHCP or static IP address assignment
Downloadable firmware
Requirements and Compatibility
Avaya Communication Server - TN2302AP and TN799C (not needed on S8300 Media Server with G700 Media gateway)
Power - Includes local power supply. Does not support PoE.