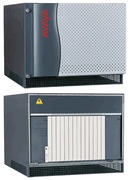 No video selected.
Avaya G650 Media Gateway Features
For call control, the G650 Media Gateway connects to an external S8500 or S8700 Media Server over an IP link using the TN2312BP IP Server Interface (IPSI). For mission-critical applications, G650 port networks can be configured for IPSI duplication, which provides fault-tolerant duplicated control paths to the media server. This feature introduces a high-availability option for enterprises with existing mission-critical voice systems that want to migrate to an IP transport solution without compromising system reliability and availability.
The G650 Media Gateway features an 8U high, 14-slot chassis that can be installed in industry standard EIA-310 19", 24", or 600 mm ETSI open or closed racks. The G650 can accommodate a range of analog, digital, ISDN, and IP (over the LAN) phone station configurations, with voice transport options over IP, analog, TDM, or ATM. Available dual redundant, load-sharing power supplies with AC/DC inputs provide enhanced system reliability. For scalability, up to five G650 Media Gateways can be stacked together using a TDM/LAN cable and a built-in connector in the back of the chassis to form a high-capacity port network.